Yuvamanthan Model G20, a unique initiative for youth who wish to ace the art of public speaking, diplomacy and strategy commenced today with its first-ever summit on January 26, 2023, as India celebrated its 74th Republic Day. The first among many summits was held at Parvatibai Chowgule College of Arts and Science in Goa.
India assumed the G20 presidency from December 2022. India's presidency would be a watershed moment in India's history as it seeks to play an essential role by arriving at pragmatic global solutions for the wellbeing of all, manifesting the true spirit of 'Vasudhaiva Kutumbakam' orG20's theme "One Earth – One Family – One Future'.
The role of India's youth in a deeply interconnected world is critical and they can contribute by providing solutions to the global at large. Initiatives to facilitate their inclusion are essential to give them a global voice to be heard on matters related to the world's socio-political problems.
Yuva Manthan Model G20 (YMG20) is one such platform aimed at creating awareness on G20 Among the youth, capturing their ideas and disseminating them to policymakers, G20 practitioners and foreign delegates. It allows students and young participants to discuss current economic, socio-political and cultural issues by participating in a mock simulation of the G20 summit where they act as the leaders of the G20 nations.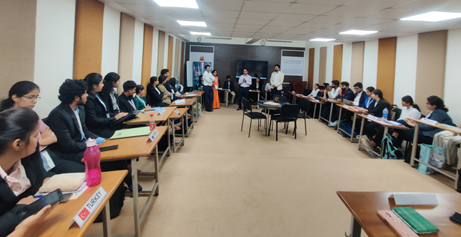 The launch event at Goa witnessed participation from over 50 students who were designated as Finance ministers and Sherpas of G20 countries. The summit was divided into two major tracks, the Sherpa Track and the Finance Track where participants discussed the most pressing issues on global economic, environmental and trade-related affairs fronts. The action-packed summit led to a consensus on investing in sustainable energy, climate change and innovation of technologies.
To enable sustainable growth in agriculture, forestry etc., Students also discussed technology sharing among the G20 countries, specifically that of data, designs, inventions, material, software, technical knowledge, or trade secrets from developed countries to developing countries as they require it to make the intermediate goods into final goods.
Addressing the students on this occasion Goa's Chief Minister Pramod Sawant said "Yuva Manthan Model G20 is a great opportunity for the youth to come forward and share their innovative ideas and opinions on global issues that shall bring a new perspective in the eyes of the decision-makers for a sustainable, smart and inclusive world". Minister of State for Tourism and Ports, Shipping and Waterways, Government of India, Sh. Shripad Yesso Naik also addressed the students and said "Yuva Manthan Model G20 is a great example of engaging the young generation in transforming global scenarios through deliberations on the different strategies that should be implemented to solve the problems faced by global citizens."
Aditya Chowgule, Vice President, Parvatibai Chowgule College of Arts and Science, Goa said "Our college encourages youth to engage in practical discussions on global issues and helps develop soft skills like confidence, teamwork, diplomacy and responsibility towards a better world that youngsters really need it. Yuva Manthan Model G20 is a great opportunity for students to learn such skills".
Yuva Manthan Model G20 Summits which started in Goa will expand pan-India and will be held in various schools, colleges and universities at the regional level, followed by state-level and national-level summits. "We hope to reach 10,000 educational institutions and engage 1 crore students. Yuvamanthan is recruiting Campus Sherpas who are motivated student volunteers who will organize Model G20 Programmes in their educational institutions' ' said Yuvamanthan's Director Nitin Agarwal.
Yuvamanthan also aims to recruit motivated students from high schools, colleges, and universities and designate them as "Campus Sherpas". The Campus Sherpas will be responsible for organising Model G20 Programmes in their schools, colleges or universities.
Every institution should have one Campus Sherpa who will volunteer to carry out a number of tasks to advertise, oversee, and carry out Model G20 Programmes on their campus. Speaking on the On the occasion of the launch Danish Kamal – Director, SafeInSchool said "We view Yuva Manthan as a potential platform to take our message of school safety to thousands of educational institutions". He described the Yuvamanthan initiative for youth as "a step onto the first rung of governance and diplomacy based on self-awareness." He added further that "through our experience at the first-ever Yuva Manthan Model G20 Summit we know that the youth of India is more than capable of sharing solutions and strategies that can change the world and therefore youth inclusion should be the next big debate at a national and global level".