The fall/winter of 2021, Donatella Versace introduced us to the iconic Aevitas platform sandals. The internet collectively lost its mind and Soon copycat versions were available everywhere. Little Box was one of the first brands in India who produced their own version of the platform and it quickly sold like hot cakes.
Browsing LittleBox is like You Are Transformed into a Y2K era. The corset tops, flared trousers, cut out tops, and iconic shoe collection, shopping at little box you can actually become Christina Aguilera or Eli Woods of Mean girls at a fraction of the price.
Little Box was founded in 2022 by Rimjim Deka and Partha Kakati. Their office is nestled in Gauhati Assam and Delhi NCR respectively.
In the first year of its operation, littlebox hit the net revenue of 9 crore with a profit margin of 15 %.  As speaking to founder Rimjim Deka "after we launched, we actively Took orders for only around 9 months and we could achieve gross sales of almost 12 crore & net sales of 9 crore without any external funding.
We bootstrapped with 30 lakhs with us. We knew we had to be profitable as there was no other option for us to do it any other way."
Also 100 percent of their sales is generated through their own website.
Littlebox has delivered almost one lakh shipments pan India in 14 months. All the  products on the website are manufactured in-house in our own captive facilities. With a 360 degree process of designing, photography till finished goods manufacturing is done in-house & finally shipped from their own warehouse based in Delhi .
Rimjim & Partha both are from Guwahati, Assam. They spent most of the time between both Guwahati & Delhi where they have their office & Warehouses respectively.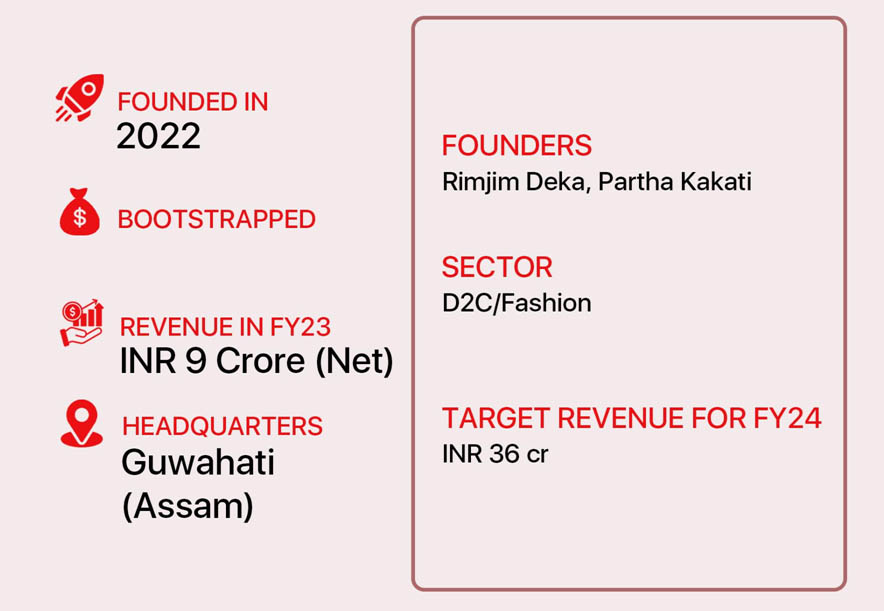 Being able to set up our office in Guwahati makes us extremely happy as we are able to generate a certain number of employment and along with that able to establish and ran operations of a D2C brand catering all over India, which is rare and still very new in North East India as the couple quotes.
With a team of 40 people, Littlebox is currently chasing a revenue run rate of 36 crore maintaining the same profit percent of 15 as their last financial year.
They are currently focused on the genz women audience but also plan to launch  products to target men of the same age group.
The key to littlebox designs is Real time retail. And also they have rolled out on demand production. Littlebox is building out a digitised supply chain that also gives feedback to factories on which styles are in demand. This way they are able to use data driven buying, merchandising and marketing strategies to create the ultimate flywheel of great selection and great prices.
Littlebox is extremely active on the social channels, Instagram, Snapchat, Facebook & YouTube. If we want to win over social channels, we need to be strong on social .We are trying to reach our potential customers via a community approach, says Rimjim. 
This generation values individualism & ability to make decisions for themselves. They don't want to be told what to wear or buy. In that sense, I believe, the new generation will demand a greater variety of clothing styles without breaking the bank & hurting the planet. By following on demand production methods we already try to impact a little less in the environment and with time we aim to make this one of our biggest usp.
We want to be one of the most loved GENz brands in India & we believe we are in Right track already.  We are extensively working on theme based launches & we constantly take feedback from our consumer and do the changes as desired as quickly as possible. And from day one of our inception, we invested in building technology to ensure a smooth supply chain & we aggressively continue to work in technology keeping the bigger picture in mind.
With the increasing number of orders, Littlebox has taken over GENz fashion game in India. Even the website screams everything GENZ,  you can choose from one of the Littlebox's list of moods, if you are on the hunt for pieces that match a certain specific micro trend you are loving lately.
With a team of dedicated factories, Little Box continues to channel fashion nostalgia, reinterpreting iconic pieces for the modern wardrobe at a much more accessible price point. As the brand is self-sustained and independently funded, profit is especially crucial, but the founders have not allowed it to compromise their commitment to quality.
"With the increasing consumer awareness and demand for sustainable and ethical fashion, this move seems only natural. We have always been dedicated to creating the best quality products and this new initiative aligns with our overall vision," shares co-founder Partha Kakati.
The brand has been well received not just in the metros, but also in tier 2 and tier 3 cities giving them an expansive customer base. They have built a strong online presence with an active community on social media platforms.  Notably fashion influencers have been seen flaunting Little Box designs, adding to the brand's popularity and reach.
Continuing the conversation, Rimjim comments on their future plans, "We are continuously innovating and trying our best to serve the ultimate fashion trends to our potential shoppers. We are immensely excited for the upcoming styles and collections we plan to introduce."
By the looks of it, this home-grown brand, Little Box, is on an excellent trajectory, shaping the way for young Indian consumers to explore fashion that is affordable, stylish, and homegrown. With their eyes set on not just surviving but thriving in the retail world, they're definitely a brand to watch out for. Their success story is a testament to how far passion, innovation, and hard work can take you, even within the often cutthroat world of fashion.